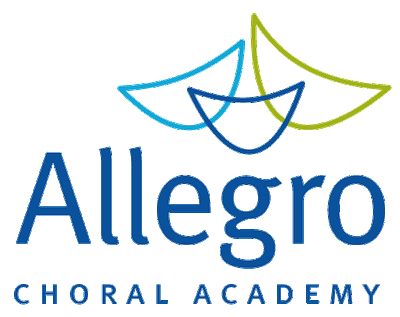 Making a difference...one song at a time.
Our Philosophy
The Allegro Choral Academy is dedicated to providing a comprehensive vocal music experience to young people through the achievement of musical excellence in an environment that nurtures creativity, teamwork and the love of singing.


The curriculum at ACA is structured both to challenge and inspire students. In addition to three performances throughout the year, singers are trained in sight-reading, ear training, musicianship, vocal development and ensemble skills.

The Allegro Choral Academy expects its students to be positive leaders in their respective school and community music classes and ensembles. ACA supports and supplements the vibrant and successful music programs in the area's schools and communities of faith. Although based in the southern metro communities of Minneapolis/St. Paul, ACA is open to all singers in grades 2-9.

In addition to its musical and educational mission, ACA has partnered with charities and local schools to raise funds to help children gain access to music education. By doing this, the Academy not only helps a worthy cause, but it also teaches students, firsthand, music's power to positively change our local and global communities. To date, Allegro concerts have raised over $8,000 in the past decade. To view charities that have benefited from Allegro's music, click here. If you are a teacher of an Allegro singer and wish to apply for a Music Support Grant, contact: office@allegroca.org.

Allegro meets at Eastview High School in Apple Valley, MN.

More than half of ACA's budget is derived from tuition that each student pays. The remaining funds are generated by business partners, ticket and CD sales, personal donors and grants. There are a limited number of need based scholarships available. Click here for more info.

Allegro is a non-profit 501(c)3 organization. Donations are tax deductible and extremely appreciated. Click here for more information on how you or your employer can become a Friend of the Academy and help our students achieve
their musical potential.